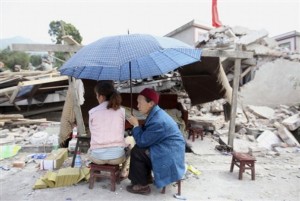 22-4-2013 | De aardbeving in Sichuan laat diepe sporen na. Honderden doden, duizenden gewonden, tienduizenden daklozen. In totaal is anderhalf miljoen mensen slachtoffer van de aardbeving. Naast de grote fysieke schade heeft de beving ook impact op iets heel anders: een crisis is bij uitstek het moment voor een regering om vertrouwen van de bevolking te winnen, of te verliezen.
Uit alles bleek dat de Chinese overheid dit keer aanzienlijk beter voorbereid was dan in 2008, bij een veel grotere aardbeving in hetzelfde gebied. De rampenbestrijding kwam onmiddellijk op gang, hulpverleners en militairen waren snel aanwezig en premier Li Keqiang vloog dezelfde dag nog naar het rampgebied. Hij stak slachtoffers een hart onder de riem en bleef zelfs een nacht slapen in een tent.
Zwart-wit
Ook de informatievoorziening was sterk verbeterd. Waar de Chinese media in 2008 nog allemaal exact hetzelfde meldden, was er nu een stroom van verhalen en beelden uit zeer diverse bronnen. Sociale media speelden een grote rol, met stemmig zwart-witte pagina's met oproepen voor donaties, een speciale website om mensen te kunnen vinden en pagina's met informatie voor hulp aan geïsoleerde dorpen.
Toch stak het wantrouwen ook nu de kop op. Er waren honende reacties op de aankondiging van hulp door het Chinese Rode Kruis. Talloze mensen riepen op om vooral geen donaties te geven aan 'de kleine rooie' of 'die zwendelaars'. Een corruptieschandaal en hardnekkige geruchten over gesjoemel met het geld voor de slachtoffers van 2008 hebben de geloofwaardigheid van de organisatie ernstig geschaad.
'Tofoe gebouwen'
Een vraag die mensen bezighoudt is of met name de schoolgebouwen de aardbeving dit keer beter hebben doorstaan dan de 'tofoe gebouwen' van 2008. Corrupte bouwpraktijken zorgden er toen voor dat gebouwen wegens ondeugdelijke constructie zomaar in elkaar zakten. En de vraag of er oorzaken aan te wijzen zijn voor de aardbevingen. Het gebied ligt op een bekend breukvlak, maar mensen vragen zich hardop af of er geen verband is met de bouw van dammen en grote waterreservoirs in de regio of andere menselijke oorzaken. Of de ramp niet toch ook de schuld is van de regering.
Andere vragen zijn waarom deze aardbeving niet voorspeld is en waarom er überhaupt zo weinig geld wordt besteed aan voorspellingen. Saillant detail is dat een privé onderzoeker wel een accurate voorspelling deed van een beving, met nauwkeurige aanduiding van plaats, tijd en sterkte. Maar omdat de overheid dit soort informatie in eigen hand wil houden, werd hij op de vingers getikt. Zijn handelswijze zou illegaal zijn.
Tussen controle en transparantie
Dat het wantrouwen ten opzichte van de overheid groot blijft, zie je ook bij die andere calamiteit: de vogelgriep. Internationaal is er lof voor de Chinese aanpak en openheid, maar intern zijn er talloze vragen over de handelswijze. Angst voor de ziekte versterkt de argwaan. Op hun beurt betitelen de autoriteiten het verspreiden van geruchten als schadelijk en is een aantal mensen dat zich schuldig zou maken aan paniekzaaierij opgepakt.
In Sichuan blijft de angst voor naschokken groot. Mensen leven voorlopig op straat en hebben behoefte aan tenten, eten en water. De eerste fase van hulpverlening heeft enig vertrouwen gewekt, maar het blijft voor de autoriteiten balanceren tussen controle van informatie en transparantie. Niet makkelijk om het evenwicht te bewaren als controle zo sterk ingebed is in het systeem.
Deze column verscheen ook bij HCSS.