Professor Kishore Mahbubani from Singapore likes to cast stones into the pond, albeit gently. On May 23rd, in The Hague, the Dutch ministry of Foreign Affairs organised an event in cooperation with Krijger & Partners and China Circle, with professor Mahbubani as keynote speaker and Dutch ambassador in Beijing Ed Kronenburg presenting reflective remarks on the speech. Students from the universities of Utrecht, Leiden, Rotterdam, The Hague and Twente kicked off by offering their views on China: they showed great curiosity about China and its future role, a welcome addition to the omnipresent 'fear or opportunity' reactions to China's rise. China Circle's Ardi Bouwers moderated the event.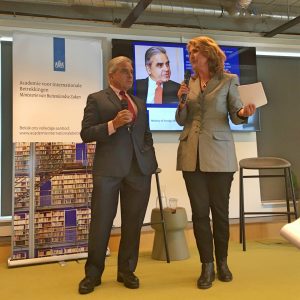 Original thinker
Professor Mahbubani is an academic at the National University of Singapore and a former diplomat. For years, he worked as Singapore's permanent representative at the United Nations. He presents his arguments in a soft spoken and charming way. But his book titles do have a sharp edge. His most recent book is Has the West lost it? A provocation. It's about how difficult it proves to be for the West (and the US, especially) to recognize historic worldwide changes. According to him, the West was the locomotive of world economic growth, but the explosive growth in China has reversed the order.
A provocative book title that struck me a long time ago was Can Asians Think? In that book, written many years ago, this original thinker tries to understand and explain the divide between East and West.
Good ally
In the Hague, Mahbubani started off with a prediction: How will the Netherlands choose its way in the current US-China global contest? He presented three scenarios, plus the likelihood of what The Netherlands would choose within 10 years:
Be a Good Ally of the US             (60% chance)
Remain Passive and Neutral      (30% chance)
Support the Voice of Reason      (only a 10% chance).
Shifting balance of power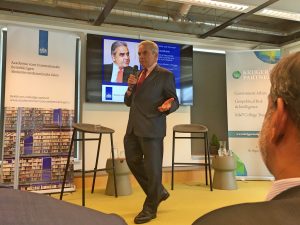 According to him, it would be best for the Netherlands and the West to adapt to the shifting balance of power, now that China and India are taking up their historic dominant economic roles again. Good news for the West? "The economic cake is not getting smaller," he says. That almost sounds like what the Chinese would call a classic 'win-win situation'. He coats his message in sugar: "Thanks to the West and Western ideas, the human condition was never better. Yet, at this moment of triumph, the West seems hopelessly lost."
Good enough governance
Mahbubani does admit that in China and other fast developing countries there is no 'good governance'. But he points out the fact that India, Indonesia and China have all managed to lift many millions of people out of poverty. So, he says, Modi, Jokowi and Xi Jinping can be described as 'competent' leaders and their standards of governance are good enough, providing 'functional governance'. But when will this functional governance not be good enough anymore? That is still an open question.
New rules?
Not everyone would agree with Mahbubani's assessment that China is not a threat to the liberal international order, as, in his words, it has "benefitted from the system". The fact that China has benefitted, does not preclude it to start using its newly acquired position of strength by trying to set new rules for the international economic and political order of the 21st century. He does not like the term 'agressive' when referring to China and prefers the more moderate 'assertive'. Always the diplomat.