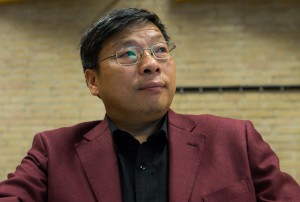 10 december 2013 | Fotograaf Lu Guang, winnaar van de Prins Clausprijs, maakt overweldigende foto's. Beelden van desolate landschappen en gedeformeerde lichamen. Van mensen die aan Aids leiden omdat zij hun bloed verkochten, besmet door vervuilde naalden. En van de slachtoffers van China's snelle industrialisering, ziek en misvormd door het gif in bodem, water en lucht. Uit de krant haalt hij zijn informatie over die misstanden. Vervolgens spendeert hij weken in arme, verre uithoeken, om de donkere kant van China's snelle ontwikkeling te documenteren.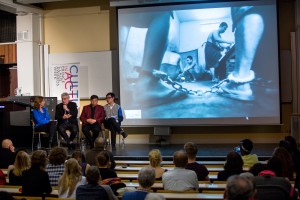 Fotografeert hij om te shockeren, vroeg ik hem. "Het zijn niet mijn foto's die shockeren, het is de werkelijkheid die shockeert," was zijn antwoord. Hij legt die werkelijkheid bloot met zijn foto's en heeft daarmee de Chinese autoriteiten al diverse keren gedwongen om maatregelen te nemen: medicijnen voor Aids slachtoffers, het stopzetten van illegale lozingen of het reinigen van grondwater op de plaatsen die hij documenteerde met zijn foto's. Kleine overwinningen, maar even verderop wordt de rotzooi niet opgeruimd en krijgen de slachtoffers geen hulp. Belangrijkste is dat hij de verwoestende vervuiling zichtbaar maakt. Ook de autoriteiten zien nu dat de snelle economische groei enorme kosten met zich meebrengt.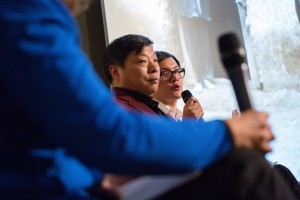 Die foto's komen niet zomaar tot stand. Om niet op te vallen arriveert Lu Guang vaak voor dag en dauw in een dorp om het pas na zonsondergang te verlaten. Of hij doet alsof hij vogels wil fotograferen, om met rust gelaten te worden door de locale autoriteiten. China interactive map . En hij treedt zo min mogelijk in de publiciteit in China, om ongestoord te kunnen werken aan zijn volgende project.
Dat volgende project gaat over de Gele rivier, de 'moeder-rivier' van China, die ook met zware vervuiling kampt. Zijn Prins Clausprijs is daarbij een steun in de rug.
Op de Facebookpagina van het Prins Clausfonds staat een selectie van de foto's van Lu Guang.
De Guardian publiceerde een audioslideshow met zijn werk.
Op 9 december organiseerde ik voor de Universiteit van Amsterdam in samenwerking met het Prins Clausfonds een lezing van en interview met Lu Guang en met Robert Pledge, curator van fototentoonstellingen en kenner van Lu Guang's werk.
Foto's van de bijeenkomst: Najib Nafid.