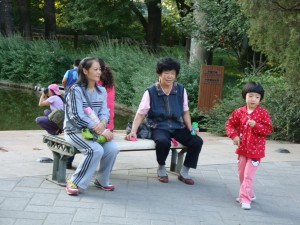 14 oktober 2013 | Woensdag stap ik weer in het vliegtuig naar China. Dit keer ga ik naar Hangzhou, Shanghai en Beijing. Horen wat er leeft, en kijken, ruiken en voelen wat er veranderd is. Oude vrienden en kennissen opzoeken en nieuwe mensen ontmoeten. En ik heb vast ook tijd om zonder duidelijk doel rond te zwerven door de straten en dingen tegen te komen waar ik niet naar op zoek was.
Gek, hoe belangrijk het is om voeling te houden met China. Als ik er een tijd niet geweest ben, heb ik het gevoel dat ik droog sta. Er is zoveel informatie beschikbaar via internet en toch is het belangrijk om er te zijn, om de nuances en de details opnieuw in te kunnen vullen, om vergelijkingen te kunnen trekken, om mijn eigen referentiekader op te schudden.
Dit keer ga ik ook onderzoeken of een idee dat ik heb voor het schrijven een boek uitvoerbaar is, of het er genoeg toe doet, of de trends in mijn hoofd ook in werkelijkheid waar te nemen zijn. En ik moet er mijn ideeën – die steeds meer uitdijen – weer tot werkbare proporties terugbrengen.
Chinezen en communicatie, dat is het onderwerp waar ik steeds bij uitkom. De barrières zijn soms moeilijk te doorgronden. En nee, dan gaat het natuurlijk niet alleen over censuur en politiek. Ik wil juist ook een beeld van China schetsen aan de hand van maatschappelijke ontwikkelingen. Een beeld van het China dat verandert en van de dingen die ondanks alles hetzelfde blijven.
Ik heb dit keer geen VPN abonnement genomen om over de censuurmuur heen te springen en toegang te hebben tot Twitter en Facebook. Anderhalve week dompel ik me onder in China. Informatie absorberen, situaties observeren en vooral gesprekken voeren met mensen waar ik een afspraak mee heb, of die ik ontmoet in een park of in de trein. En dan te bedenken dat zo'n reis gewoon onderdeel is van mijn werk. Wat een luxe!