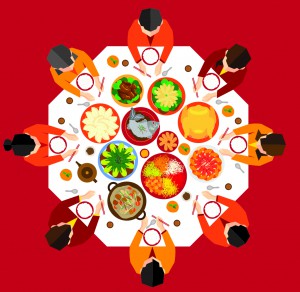 Eastern and Western communication and management styles differ greatly. China Circle offers fun workshops on intercultural communication for you and your team. We use lots of visual examples and exercises on diverging perceptions and communication styles. Ardi Bouwers and Tao Yue are both certified trainers using the Intercultural Readiness Check and the Diversity Icebreaker.
Our Intercultural Readiness Check–group-workshop provides all participants with a deep understanding of their individual intercultural sensitivity, intercultural communication, skills of building commitment and managing uncertainty. Before the workshop, all participants will be asked to fill out a scientifically tested questionnaire and they receive a personal 10-page feedback report. That provides a firm basis for dealing with questions such as: How to improve communication with your Dutch or Chinese counterpart? What is a consequence of personality and what of cultural differences?
The Diversity Icebreaker tool enables us to learn about personality and East-West cultural differences in a non-threatening environment. Fill out a short questionnaire, discover your preferences and the differences between 'me' and 'you' in a light-hearted and fun way. The Diversity Icebreaker is also an excellent tool for an in-company training session, cementing ties in your Chinese/Dutch team, as it makes people reflect, ask, listen and talk to each other.
For more information, please contact:
ardi@chinacircle.nl or call +31-6-2323 4404.
We also offer Personal Coaching on the basis of your IRC, especially aimed at managers and team members of Dutch companies operating in China and vice versa. We will deal with questions such as: How to cope with diversity in your team? How to lead your team when one colleague is un-cooperative? How to perform well, if your boss seems to ignore you? How to make your partner feel at home in The Netherlands or China, too?
Our workshops and training sessions can be tailored to your specific needs. They are suitable for all kinds of groups and teams: Dutch and Chinese, Asian and European or any other East-West mix.
We prefer small workshop groups, with a minumum 6 and maximum 16 participants.
Coaching is individual, unless you request group coaching.
We usually work with two facilitators, one from Europe and one from Asia.
You are more than welcome in our wonderful workshop space – with a zen-like atmosphere and an intimate green garden  – in the center of The Hague. Another location of your choice is possible as well.
Workshop: Telling your story effectively across borders.
Creating a new narrative for cities, services and more.
Workshop: Effective leadership across cultures.
About hierarchy, feedback and trust.
Workshop: Negotiating in the Netherlands and China:
for Dutch, Chinese and other internationals
Workshop: Circles and straight lines:
Understanding and improving East-West communication.
Workshop: Why do we have to adapt (and not them)?
About perceptions, intentions and what is considered 'normal'.
A standard 3-hour workshop for a small group costs 600 euro.
For larger groups we work with 2 facilitators, and the cost is 1000 euro.
Of course, we can tailor any workshop to your specific needs.
For more information, please contact:
ardi@chinacircle.nl or call +31-6-2323 4404.