"The Netherlands is the focus of the Global Garden Lifestyles Festival at the China International Furniture Fair in Guangzhou in March. Could you give a presentation on Dutch culture, furniture and gardens?" As a China, media and communication expert, I must admit that at first I was a bit puzzled by the request of the Guangdong Outdoor Furniture Association (GOFA). But as it is essential for effective cross-cultural communication to know your own culture, I decided to take on the assignment. [Click here for a Chinese version of this article.]
Square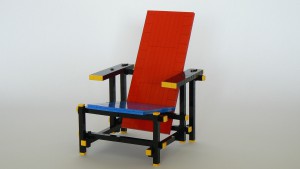 It was fun preparing for the talk. Searching for the essence of Dutch culture, and for examples that do ring a bell in China, famous painters such as Rembrandt, Van Gogh and Mondrian came to mind. Modern Dutch architecture and design provide some insight into the Netherlands as well. Icons like Koolhaas and Rietveld are well-known in China. Rietveld's houses and furniture can easily be linked to the painter Mondrian: a 'square' style with straight lines, eliminating all things unessential. And that is clearly reminiscent of the Dutch communication style: direct and blunt, usually saying exactly what we think.
Round
Of course, there is another side to the blunt, somewhat rude Dutch people. The word 'gezellig' (热闹 renao in Chinese) defines another important aspect of Dutch culture. There is a 'round' side to the Netherlands as well. Translated into architecture the curvy lines of UN Studio (the Arnhem railway station) and the MVRDV Markthal in Rotterdam come to mind. And the objects by Roosegaarde and by Droog Design are a case in point: innovative, functional with a touch of fun. The award winning Body Chair by Oosterhuis, who has been called the Rietveld of the 21st century, is also an example of innovative design. Droog design reduces objects to their essence and adds a playful accent, see for example its Tree Trunk Bench. For the design of a self-illuminating asphalt bicycle path, Roosegaarde makes a reference to Van Gogh's starry night painting. Thus, Dutch art and design seem to come full circle.
.
Practical
The practical attitude of Dutch people shows in the development of outdoor furniture. Innovative use of materials is an important trend. We want our garden furniture to be easy to clean, stay outdoors all season, be UV resistant and anti-fungal. So, lots of new synthetic material is designed and tested, for example strong synthetic rope that can replace old-fashioned wicker. Robust materials are used, even concrete is now fashionable. And there seems to be a plastic revival. The award-winning colorful Seaser chair is an example.
.
'Rembrandt of gardens'
Turning to garden design, we also see the two Dutch faces: round and square. The 'square' minimalist Veldkamp includes rectangular pools and long lines of trees in his designs. World famous garden designer Oudolf is the complete opposite. His High Line park in New York has been described as 'a flower painting in the middle of the city.' Characteristic of Oudolf's style are curving lines and many different kinds of grasses, as 'they add a soft silhouette and movement to a garden.' Oudolf has been called 'the Rembrandt of gardens'.
Mirror
Dutch design of garden furniture can be summed up like this: square and round, innovative and practical, with bright colors, reminiscent of the famous Keukenhof tulip field. For me, it proved to be an interesting experience to take a look in the mirror and explain the essence of Dutch culture to a Chinese audience.
Trends


Walking around the outdoor furniture fair, most striking were the many round forms, as you can see in the pictures. Round chairs were everywhere, mostly made of synthetic rattan. Suspended lounge chairs and rocking chairs were especially popular. There was even a cute round wooden cabin. My favorite? A combination of all that: a round, rattan rocking chair.
For a Chinese version of this article click here .