Mijn boek Cirkels en Rechte Lijnen, over communicatie tussen Chinezen en Nederlanders, met talloze voorbeelden over de dagelijkse omgang en veel uitleg over de Chinese cultuur, kan je bestellen bij iedere boekhandel in Nederland en bijvoorbeeld ook online bij bol.com.
ISBN 978 94 021 44550
Brave New Books, 200 pagina's, € 24
Een voorproefje is elders op deze website te lezen.
Recensies:
China2025 (augustus 2016): 'Een aanrader.'
Blogaap (juni 2016): 'Een leerzaam boek.'

Reacties bij Bol:
Stop dit boek in je tas wanneer je richting China gaat
Dit boek is een aanrader voor eenieder die met Chinezen contact heeft. Vol handige tips om culturele valkuilen te vermijden en de communicatie (voor beide kanten overigens!) veel soepeler en prettiger te laten verlopen. Of je nu om professionele redenen te maken hebt met China en de Chinezen ofwel simpelweg een toeristisch bezoek aan het land brengt, je zult veel van je gading vinden in dit boek!

Een must voor iedereen met belangstelling voor China
Sinologe Ardi Bouwers gaat in 12 heldere hoofdstukken in op een aantal basale verschillen tussen China en Nederland en de daaruit voortkomende mogelijke misverstanden. Ze koppelt theoretische inzichten aan haar eigen rijke ervaring als journalist en docent en geeft veel voorbeelden uit de praktijk. Het boek is heel handig als je in je werk of je privé leven regelmatig te maken hebt met China. Het geeft niet alleen uitleg over zakendoen, maar legt ook uit welke zaken van belang zijn in familie relaties en vriendschappen. Het geeft veel praktische tips en handvatten om op een effectievere wijze te communiceren. De heldere schrijfstijl en vormgeving maken het tot een plezier om te lezen. Een must voor iedereen die zich interesseert voor China!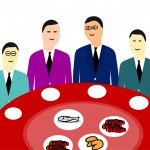 Aanrader voor iedereen die met Chinezen communiceert
Cirkels en Rechte Lijnen is een interessant en goed geschreven boek over communicatie tussen mensen uit Nederland en China. Het bevat veel praktische aanbevelingen, toegelicht aan de hand van concrete situaties. Maar belangrijker: het boek plaatst communicatie in een bredere culturele context en maakt gebruik van wetenschappelijke inzichten. Het is leuk te lezen wie de rolmodellen en helden van Chinezen zijn en welke taboes er zijn en dat leidt op speelse manier tot meer begrip van wat Chinezen drijft. Ardi Bouwers laat ook zien dat wij Nederlanders heel extreem zijn in onze directe stijl van communiceren. Dat is natuurlijk niet erg, maar de schrijver laat zien dat wij er erg van overtuigd zijn dat die stijl eerlijk is en dat wij anderen daarmee een dienst bewijzen. Dat stemt tot bescheidenheid! Zeer lezenswaardig.
Great expertise, great book
Ardi Bouwers is one of the persons most entitled to write such a book. A sinologist, journalist and trainer, she has been working with Chinese people and between Chinese and Dutch cultures for over 30 years. With an observant eye, unbiased attitude and deep reflection, she wrote a valuable book for any Dutch person (corporate man/woman, entrepreneur, researcher, student, tourist…) who wishes to learn more about the Chinese mindset and behaviour.