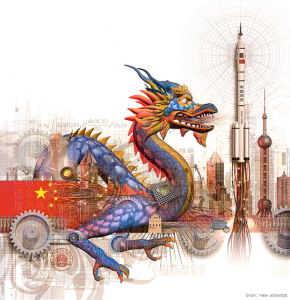 26 juni 2012 | China is in opkomst, ook op het gebied van onderzoek en innovatie. Made in China moet plaats maken voor Designed in China en Invented in China. In 2020 wil het land behoren tot de top 5 van de kenniseconomieën in de wereld. Jaarlijks studeren er meer dan 350.000 Chinese ingenieurs af en zo'n veertig universiteiten zijn aangewezen om tot de wereldtop te gaan behoren. 'En als China dat wil, dan zal dat ook wel gebeuren', is de inschatting van Nederlandse wetenschappers.
Angst
Alle reden voor Nederland om intensief samen te werken met China, zou je denken. Toch is er schroom. In Nederland heerst angst dat 'onze' kennis vertrekt naar China, angst voor de schaal van China en voor veranderde verhoudingen in de wereld als gevolg van de opkomst van dat grote land.
Op de achtergrond speelt mee dat veel Europese bedrijven moeite hebben voet aan de grond te krijgen in China. Zij klagen over het gebrek aan een level playing field ('Chinese bedrijven worden voorgetrokken'). Bovendien is de bescherming van intellectueel eigendom in China ver onder de maat. Chinezen zien een andere werkelijkheid: juist de EU is protectionistisch. 'Kijk maar naar de zonnepanelen'.
Toekomst
Toch is niet iedereen bang. De Nederlandse elektronica gigant Philips deelt juist veel kennis met China. Directeur Lighting Research & Development in Shanghai Piet Derks: 'Als je bang bent om kennis kwijt te raken, moet je niet naar China gaan.' Philips meent dat de toekomst van het bedrijf voor een groot deel in China ligt en investeert er dus. Het R&D centrum in Shanghai is onlangs uitgebreid tot 1000 werknemers. De moderne, Silicon Valley-achtige campus – ontworpen door Chinezen – moet ervoor zorgen dat die nieuwe werknemers ook bij het bedrijf blijven.
Piet Derks is er van overtuigd dat China binnen 20 jaar het innovatiecentrum van de wereld is. Die inschatting voedt in Nederland natuurlijk meteen weer de angst dat de innovatie investeringen van Nederlandse grote bedrijven naar China gaan, in plaats van naar de universiteiten van Delft, Wageningen of Eindhoven.
Scheppen of perfectioneren?
'Als je bang bent om kennis te delen, dan weet ook niemand dat je die kennis hebt,' is een les van een Nederlandse ondernemer. Definieer dan ook wat innovatie nu eigenlijk is, want daarover bestaat verschil van inzicht. Nederlanders denken bij innovatie aan origineel scheppend werk. Chinezen zoeken het meer in het perfectioneren van een kopie. Dat biedt mogelijkheden voor samenwerken, want voor origineel scheppen blijft altijd ruimte.
Wie durft?
Chinezen ergeren zich aan de zelfgenoegzaamheid in Nederland en Europa. 'Word eerst maar weer eens concurrerend,' zeggen ze. Bovendien stellen weinig Nederlanders zich de vraag welke innovatie ze uit China kunnen halen. Rijkswaterstaat heeft dat wel gedaan. Tot grote tevredenheid werken ze samen op het gebied van nieuwe technieken van waterbeheer. Op het Taihu-meer wordt uitgebreid getest wat de invloed is van stormen op dijken. China als laboratorium voor innovatie dus. Dat is zowel voor China als voor Nederland interessant. Maar zo'n experiment moet je wel aandurven…
– – –
Het congres Samenwerking met China in Onderzoek en Innovatie werd georganiseerd door de Science Alliance.
Dit artikel verscheen ook bij HCSS.
Een Chinese versie van dit artikel verscheen bij Helanonline.cn.