Later this week I start teaching at Jinan University in Guangzhou (JNU): International Communication and International News Comparison to small groups of students ('best of the class' says the coordinator)! Hope that makes discussion somewhat less daunting for them.
Yesterday I crossed the border from Hong Kong to China by train at Lo Wu.
In late 1982, exactly 35 years ago, I walked across a bridge at the same spot. Officially, individual tourism was not allowed at the time, so I joined a small tour group of 6. China International Travel Service welcomed us with a lunch and then put us on the train to Guangzhou. Shenzhen, on the Chinese side of the border, was just a village amid rice paddies. In Guangzhou, I said goodbye to the group and travelled solo to Beijing to meet fellow Dutch students. It takes only 2 hours now from Hong Kong to Guangzhou, instead of a whole day. Soon a super fast train will take you there in only 45 minutes.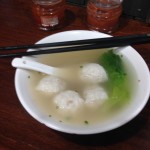 This time, I teach Journalism for 4 weeks to Chinese students of my age in the early 1980s. I especially look forward to comparing and analyzing different approaches to international and Chinese news stories with them. We'll cover Rohingya refugees, immigrants, racist ads, sexual assault, but also China related stories about news assistants, Chinese in Africa and people sleeping in IKEA stores.
And what did I have for lunch on my first day back? Fish balls in soup.
.